Beauty @ Kellianne's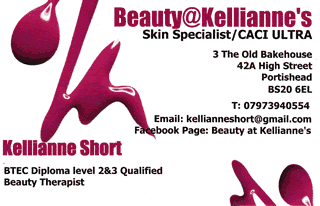 Beauty @ Kellianne's has been situated in the Old Bakehouse in Portishead High Street for more than three years offering bespoke beauty treatments specialist CACI skin face and body toning treatments for all ages, skin types and conditions.
This salon, in the heart of Portishead, is a Resultime stockist and treatment provider. There are two beautifully relaxing treatment rooms where male and female treatments range from massage (including hot stone and lava shells) through to brows, manicures, pedicures, waxing and tanning. And if you are looking for that all year round tan - choose from spray tanning or a stand up UV sun bed.
Kellianne's offers the ideal sanctuary for some 'me time' so why not give them a call today?