Events in and around Portishead
If you want to find out what's on in Portishead from the farmers' market, the Summer Show, sales and exhibitions to live music, festivals, theatre, treasure hunts or the switching on of the Christmas lights, our what's on calendar is here to help.
Browse one off events on the regular calendar or scroll through recurring events for regular meetings and activities.
To add a new event, please complete the form here or use the button, bottom right.
To share an event, go to the [Link] sign to the right of the date/time of an event. From your drop-down menu, choose "Copy link" and paste it into an email or social media post.
To correct an event, please click here to email us the details.
May 2023
Music for a Sunday Afternoon
Starts: 14:30 On 28 May 2023 | Ends: 16:00 On 28 May 2023 [ Link ]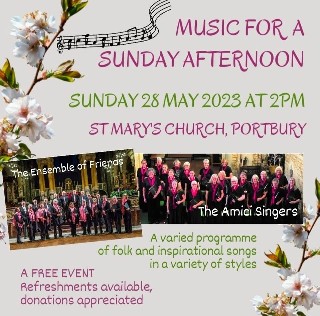 A FREE afternoon of music with the fabulous Amici Singers starting at 2pm.
We are delighted this award winning choir is paying us a special visit on their way to another event.
Refreshments will be served too (donations appreciated).
St Mary's Church
Portbury
BS20 6TR
Map