Events in and around Portishead
If you want to find out what's on in Portishead from the farmers' market, the Summer Show, sales and exhibitions to live music, festivals, theatre, treasure hunts or the switching on of the Christmas lights, our what's on calendar is here to help.
Browse one off events on the regular calendar or scroll through recurring events for regular meetings and activities.
To add a new event, please complete the form here or use the button, bottom right.
To share an event, go to the [Link] sign to the right of the date/time of an event. From your drop-down menu, choose "Copy link" and paste it into an email or social media post.
To correct an event, please click here to email us the details.
September 2023
Portishead Moon Festival
Starts: 17:00 On 30 September 2023 | Ends: 20:00 On 30 September 2023 [ Link ]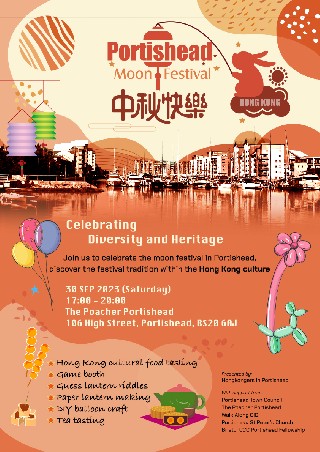 Join us to celebrate the moon festival in Portishead.
Hong Kong cultural food tasting
Game booth
Guess lantern riddles
Paper lantern making
DIY balloon craft
Tea tasting

The Poacher
106 High Street
Portishead
BS20 6AJ