Careys Home and Garden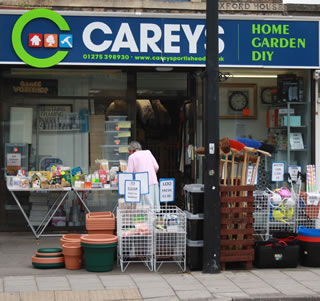 A mainstay of Portishead High Street for more than 50 years, Careys in the High Street today offers a wider variety of goods than at any time in its history, together with an excellent service base, providing knowledgeable advice and fast cheap local delivery.
The shop that you see today has been serving the people of Portishead since the early 1900s, evolving gradually to suit customers' needs and the demands of changing times to stock the enormous variety of goods you'll find there now.
An Aladdin's cave or a tardis... people view Careys in different ways, but the High Street shop can be quite a surprise when you go in for the first time and the wide stock range opens out.
You might not expect find wool, threads and cut to length ribbons in a shop that more conventionally stocks household goods, and the upstairs art shop with its range of art materials and bespoke framing skills is thought to be quite a find by its regulars.
However, there is more! When you walk right through the shop, the back door opens on to a quite different range of stock and expertise; the builders yard and then a further sales area are simply and fondly known as "The Back Shop". Here, local builders find their aggregates, blocks, cement and plaster, but there is also a huge range of materials good for the smaller user: hardware, decorating supplies, Calor Gas, fencing and timber, electrical and plumbing materials. All this is served by very friendly staff who have plenty of expertise and advice to pass on, and help to offer.
Cable and wire can be cut to customers' requirements as can glass, plywood and other sheet materials and anything can be quickly and cheaply delivered to your home.
In the summer a wide range of garden compost, fertiliser and pest control materials are stocked; in the winter, heaters, logs, coal and firelighters, and even toboggans and road salt.
17 High St
Portishead
Bristol
BS20 6AE
Map