Portishead COVID-19 Information
We are in the midst of a corona virus pandemic and everyone can help to reduce it.
The single most important action we can all take in fighting coronavirus, is to stay at home in order to protect the NHS and save lives. By reducing our d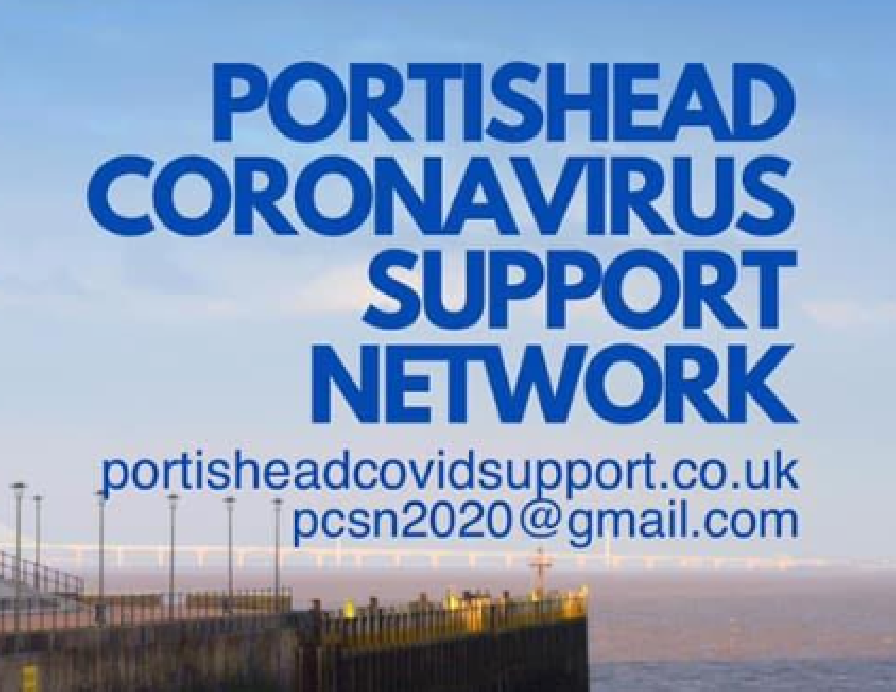 ay-to-day contact with other people, we will reduce the spread of infection.
Until further notice we must stay at home as much as we can.
Only go outside for food, health reasons or work (but only if you cannot work from home)
Stay two metres (6ft) away from other people
Wash your hands as soon as you get home
Many businesses are now closed in the fight to get this virus – Covd-19 under control
Note - you can spread the virus even if you don't have symptoms. There's full guidance on staying at home and away from others, including the only reasons why you should leave your home, on the government website.
Here is the Portishead Coronavirus Support Network Facebook page (opens in a new window), or you can contact them by email.
There is a lot of help and support in the local community in Portishead and beyond. On this page we will do our best to keep you up-to-date with the latest local news and information to help you through these unprecedented times.
Portishead COVID-19 Resources
Medical
Local medical centres are working hard to help people get and stay well.
To protect others if you have signs of the coronavirus, NHS advice is to stay at home and call 111 or use the 111 online coronavirus service. Do not attend the surgery without talking to someone at the practice first and being told you can attend.
Here's a help line and general guidance for better mental health during the pandemic from Rehab 4 Addiction.
Senior Citizens
Age UK Somerset, an independent charity, has a new telephone support service for older residents, to help them through this difficult time Tel: 01823 345610. If you are at all lonely or isolated and feel a chat would help, you can call, leave a message with your name and number and someone in the team will call you back. You can also email info@ageuksomerset.org.uk
If you would like to be put through to the information and advice team, call the same number and choose option 1. The charity offers free and confidential information and advice for older people, their families and carers. You can also email infoandadvice@ageuksomerset.org.uk
A new website www.ageuksomerset.org.uk focuses on bringing the latest information and guidance on the Coronavirus and useful links and resources for those in self-isolation. Printed copies of anything on the website are also available.
Council support
Portishead Town Council - councillors and staff - are working with local community and support groups, North Somerset Council and care agencies to ensure that support is available for everyone who needs it, whether it be help with shopping, prescriptions, physical or mental health.
If you need help or know someone else who does who is unable to access online help, call them on 01275 847078 or email office@portishead.gov.uk and they will return your call or email. The lines are checked in and outside office hours.
Alternatively, you can call the North Somerset helpline number on 01934 427437.
The Folk Hall in the High Street and the council offices within it are closed, with staff working from home.
North Somerset Together is an initiative to help residents who have no or little support from family or friends and who are socially isolated, access the support they need. Visit North Somerset Together or call 01934 427437. The individual town councils are also supporting North Somerset Together.
Care Connect can help people in North Somerset get the support they need Tel: 01275 888801 or email care.connect@n-somerset.gov.uk
Transport
People should avoid non-essential use of public transport.
Most bus services in North Somerset are now operating emergency timetables. The council-supported bus service 88 – Nailsea to Clevedon via Portishead, has been suspended. Visit Travel West coronavirus information page for more bus times and services.
Coach services have been reduced.
Trains are running with reduced timetables; check with National Rail for timetable changes and cancellations
Useful blogs
Local blogger Jane Batt of Practically Perfect Mums has put together a handy list of what shops are open and which are closed, restaurants and takeaway updates etc.